SID banka prejela priznanje za izdano zeleno obveznico
SID banka je na dogodku Green Bond Pioneer Awards od mednarodne organizacije Climate Bonds Initiative (CBI) dne, 5.3.2019 prejela priznanje za izdajo prve zelene obveznice javnega sektorja iz Repubike Slovenije.
Organizacija CBI je podelila prestižna priznanja za dosežke organizacij, finančnih institucij, vlad in posameznikov, ki so pokazali vodilno vlogo na področju zelenih financ s pionirskimi pobudami. Dobitniki priznanj predstavljajo primere najboljših praks in inovativnosti za podporo zelenega gospodarstva v svetu.
Trg zelenih obveznic je v zadnjih letih doživel enormno rast, pri čemer se pričakuje, da bo obseg tega trga do leta 2020 presegel vrednost 1 trilijon EUR.
SID banka je na mednarodnem kapitalskem trgu v decembru 2018 z zeleno obveznico pridobila sredstva v znesku 75 milijonov EUR, kar je bila ena izmed prvih tovrstnih transakcij v tem delu Evrope. Zeleno obveznico SID banka namenja financiranju zelenih projektov in modelov krožnega gospodarstva s čimer prispeva k doseganju ciljev trajnostnega razvoja v Republiki Sloveniji.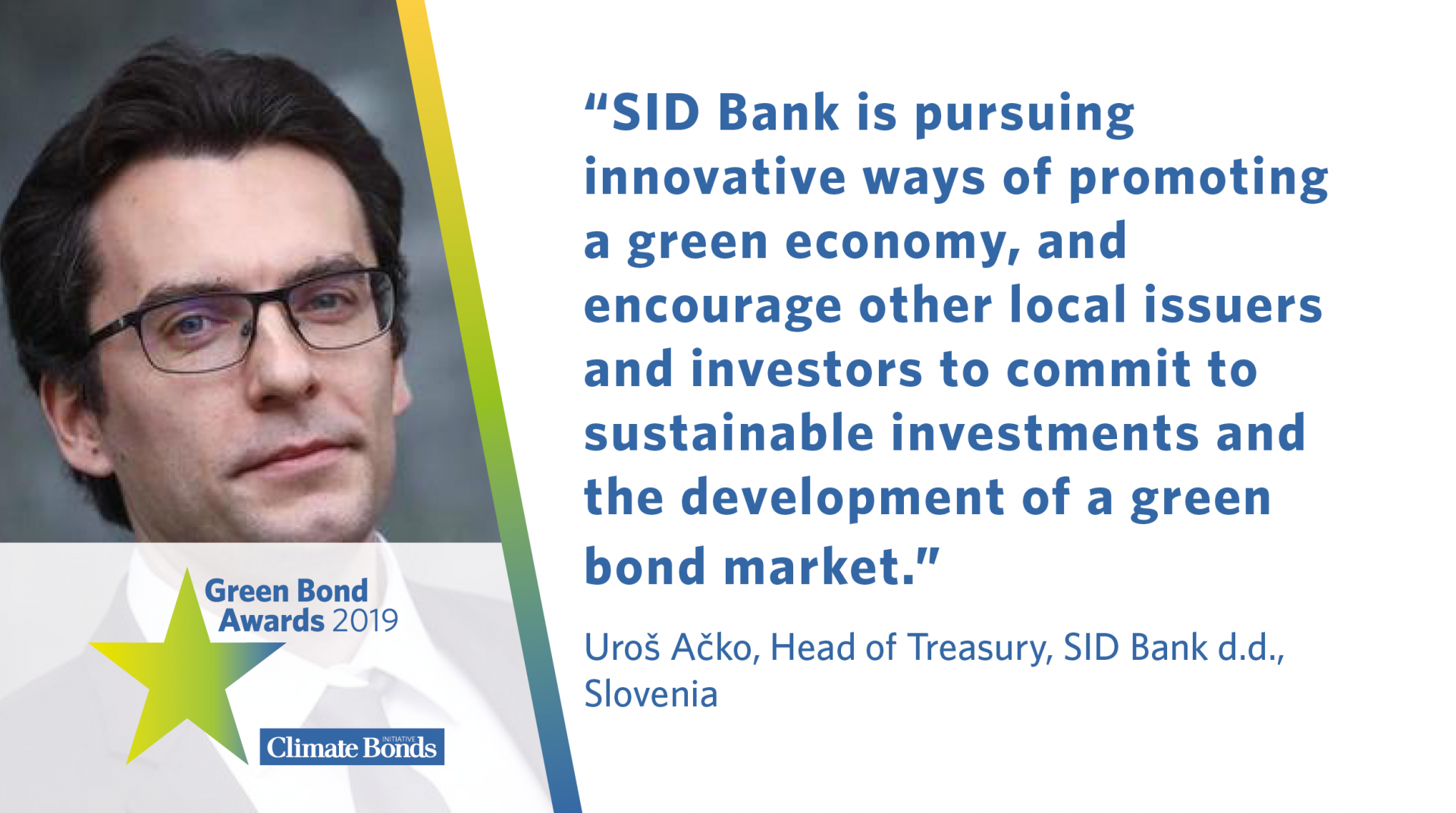 Additional exports in 2017
07. May 2019
Official presentation of the new Slovene Equity Growth Investment Programme (SEGIP), organized by SID Bank, European Commission Representation in Slovenia and European...
05. December 2018
SID Bank became the first Slovenian issuer to issue green bonds on the international capital market, in the amount of EUR 75 million.
All rights reserved © 2017 SID - Slovenska izvozna in razvojna banka, d.d., Ljubljana